CLICK TO USE OUR SIDING VISUALIZER TOOL
Would you like to update the style of your Long Island home?
You would? Good! Then you've come to the right page, because vinyl siding can completely transform the look and feel of your home for the better.
But remodeling your home's exterior with vinyl siding doesn't just increase curb appeal…
…It also reduces maintenance, saves energy and immediately increases resale value.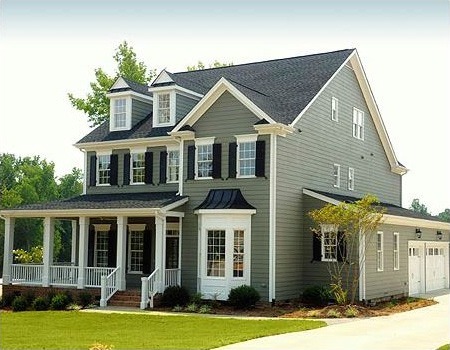 Advice on Vinyl Siding from the Experts at GAMCO:
How Can Vinyl Siding Modernize Your Home?
Vinyl siding has clean and modern lines which will make your home look like it was newly built. In fact, vinyl siding is the choice for over 32% of new homes built today. Because it is so popular in new home construction, siding comes in a plethora of up-to-date styles and colors.
Benefits of Vinyl Siding Installation
Vinyl not only looks great, it is a green choice. Why is vinyl siding so popular? Vinyl siding:
Insulates your home and keeps inside temperatures more comfortable year- round.
Saves energy and reduces fuel bills.
Requires less maintenance and doesn't need painting.
What Style Choices Does Vinyl Siding Offer?
Whatever look you want for your home, you can create it with vinyl siding. Along with offering unique color choices, vinyl siding comes in a wide variety of shake and clapboard styles, including:
Scallop shakes.
Natural grain cedar shakes
Hand-split deep grained cedar shakes.
Cape Code Shingles.
Double clapboard Oak grain.
Beaded edge clapboard.
Clapboard styles from 3″ to 10″ in width.
GAMCO Vinyl Siding Design Services
At GAMCO we pride ourselves at meeting our customers needs. If you show our general contractor a sketch or picture of what you want, we will create a design that fits both your dreams and your budget Prefer to create your own design? Use the Siding Visualizer Tool to help you envision your new home. This online tool will let you look at the variety of colors for both the main siding and the accents. With their online showcase, you can try out different color combinations on one or two story homes and even look at different roof colors.
GAMCO Vinyl Siding Installation Services
Older frame homes have poor insulation and many gaps in wall cavities. We solve that problem by installing the Swedish-designed polar star siding system which makes older houses as energy efficient as possible. Here is how the polar star installation works:
Walls are drilled out every 16 inches to provide access to cavities called "bays."
A 1/2 " thick, foil-backed, foam-board underlayment is installed over all walls to provide further insulation.
Vinyl siding is installed and caulked with high-grade silicone sealant and weather-stripping.
Other types of energy saving remodeling can be done at the same time as the vinyl siding. Examples of additional options are:
New high-grade thermal windows.
Insulated pipe wrapping on heating systems.
Adding continuous ridge vents on roof.
Adding a clock thermostat.
Why Choose GAMCO for Your Vinyl Siding Remodel?
At GAMCO, we know that after a long day at work you don't want to come home to a messy remodeling project. We put the customer's needs first. That means we:
Make sure we do the job the right way so it will last.
Take care of all the details, including permits, so you don't have to worry.
Work your vinyl siding remodel around your schedule.
Keep your property clean and picked up with no unsightly dumpster.
If vinyl siding sounds like a good choice for your Long Island home, contact us at GAMCO. Our family owned and operated business offers a Four Diamond Guarantee, meaning we don't just guarantee the materials, we stand by our labor too. If anything goes wrong, we will fix it. Guaranteed!