Dens Are the Heart of Your Home
Looking to remodel your den? Dens are probably the most multi-use room in the house and play an important role in your family's life. They can function as entertaining spaces, home theaters, gaming rooms and, when opened up to the kitchen, dining areas.
Updating this popular space to improve its appearance or to better suit your family's needs can make it an even more enjoyable spot for everyone who uses it.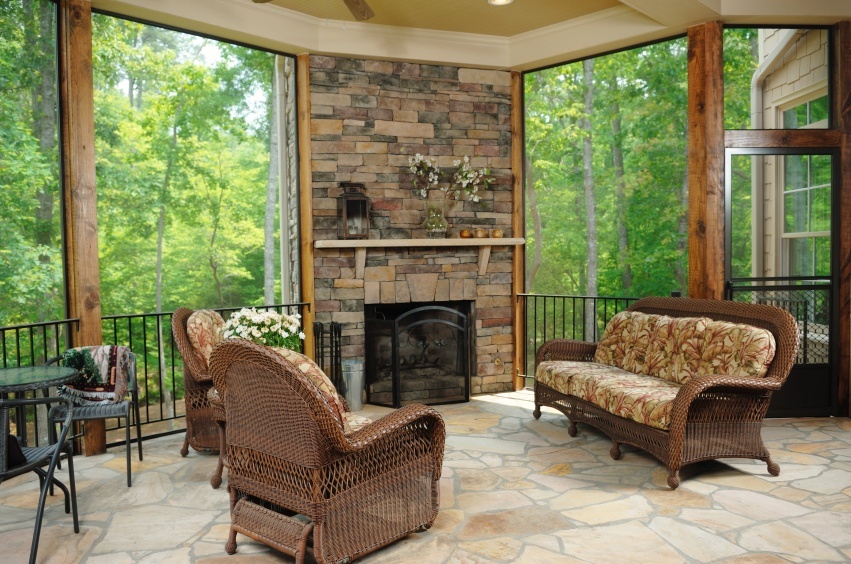 Den Remodeling Advice from the Experts at GAMCO
Do I Need to Remodel the Den?

If your den serves as multi-function room, it may be overcrowded or have a less than perfect floor layout to meet your family's needs. As your family grows and matures, the reasons you use your den can change.
At Gamco, we'll work with you to create a perfect remodeling plan that will give you the opportunity to not only update its design but customize it to suit your family's current lifestyle.
Benefits of a Den Remodel

Remodeling the den can create a beautiful and relaxing environment for a variety of activities that your family and guests can enjoy. It can also improve the overall appearance and value of your home.
According to Remodeling magazine, homeowners who add or remodel an existing den can except to recoup about 79% of their investment at resale. If you've been imagining what your den might look like if you add hardwood flooring, install built-in bookcases, add a media center, or put in a fireplace, Gamco will assist you in visualizing it.
What are the Options?

Den remodels often include updates to flooring, lighting, cabinetry and paint, and they present the perfect opportunity to run wiring for a new home theater system, add a dining area, or replace window and doors. Installing a fireplace to add coziness and warmth, or adding contemporary lighting or ceiling fans are very popular updates.
We can help you make these or any other changes you envision to make your current den more functional and inviting.
How Long Will it Take?

How long your remodel takes depends on whether you are making mostly cosmetic changes, or if the scope of the project is more involved, such as removing walls or installing a home theater or fireplace.
We can best discuss an accurate schedule once we've developed your remodeling plans with you. We will never underestimate the time involved simply to get the job. We've been in business for nearly 30 years for a good reason – homeowners trust us to be upfront about time and money commitments.
We value integrity so much we offer our Four Diamond Guarantee that covers both labor and materials. We promise to give you an accurate bid and schedule that, barring any unforeseen circumstances, you can count on.
What About Cost?

Our goal is to help you achieve the den of your dreams while staying within your budget. Many factors affect what the final cost will be for your den remodel, including:
Flooring and wall coverings
Trim
Structural and wiring changes
HVAC and insulation
Windows and doors
Electrical outlets, switches and lighting fixtures
We'll spend the time it takes to go over every option with you so you can evaluate which plan works best for your specific budget.
Let's Get Started

Let Gamco remodel your den so that it becomes the room you and your family can't wait to spend time in! We serve all communities throughout Eastern Nassau and Western Suffolk Counties.
We invite you to look through our site, check out our gallery of completed remodels, and read other homeowner's testimonials. Then contact us for your no-cost den remodeling consultation. Make plans with us today!