Could your Long Island home use a new or upgraded bathroom?
The bathroom is no longer a utilitarian space. The 21st century bathroom resembles more of a day spa-like atmosphere, where couples and guests can whisk their cares away in luxurious surroundings or a relaxing soak in the bath.
The GAMCO bathroom remodeling process goes beyond the bells and whistles. Our team:
Designs livable bathrooms that will serve your household now and in the future.
Creates solutions for layout and flow issues that limit your bathroom's function.
Integrates the little extras, like the removal of unnecessary soffits or the addition of skylights for a more spacious and usable design.
Whether your tastes run towards the cozy and traditional or the sleek and modern, a well-designed and carefully planned bathroom remodel will enhance the function – and the value – of your home.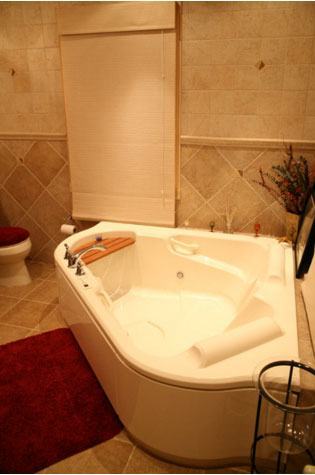 Bathroom Remodeling Advice from the Experts at GAMCO
Client-Focused Bathroom Remodeling For the Contemporary Home
The professional design-build team here at GAMCO is 100% committed to creating personalized bathroom designs that catch the eye but are entirely livable. We work closely with our clients so that you feel a part of the design process, and not a single tile is removed or set unless our clients are as confident in the design as we are. As a result of our experience and high-quality work, there's a reason we're Long Island's best when it comes to bathroom remodeling. Long Island residents have trusted us for years and we're excited to help each homeowner make their bathroom a place that they can be proud of.
With this client-focused attitude, our clients enjoy a more stress-free bathroom remodeling experience, and the results are a lasting and high-quality design.
The Custom Bathroom Design Process
Here is an overview of the custom bathroom design process when you become a part of the GAMCO family:
Design your dream bathroom
Have you already assembled a physical or digital "dream bathroom" file? Bring it in and we'll take a look. Know you want something different, but not sure what that different should be? No problem, we'll sit down with you and work through your needs and wants.
Our design team will take your ideas, and learn more about your family's rhythm and lifestyle, to come up with a few different bathroom designs tailored to your family's needs and budget. We don't start the project until you are completely satisfied with the plans and sample images we provide.
Choose the fixtures and finishes
This may be the most fun part of the process, but it can also be overwhelming. Countertops and cabinets are one thing, then there are the fixtures, tile patterns, paint colors and other furnishing details to keep in mind.
GAMCO's professional and experienced staff will guide you through the selection process, always with an eye on timeless accents and finishes that will keep your new bathroom remodel relevant for decades.
Enjoy a stress-free remodeling experience
After more than 30 years in this business, we know how to create an organized, realistic and accurate construction timeline. This makes for a much less stressful bathroom remodel. You'll always know what's happening when, and can expect open and honest communication on our part, so you'll always feel informed about the process.
A Quality Bathroom Remodeling Experience From Start to Finish
When you work with GAMCO, we guarantee a quality experience from start to finish. We are a family-owned and operated business on Long Island. You'll get to know us by name, and we treat each of our remodels as if it's being designed and built for one of our own.
We only use the highest-quality materials, and pride ourselves on craftsmanship, resulting in the stunning bathroom designs you see in our Gallery or by visiting the GAMCO showroom.
Our team looks forward to meeting you and designing the bathroom remodel you've been waiting for. Long Island residents can call (631) 587-2266 to schedule a consultation, or click on the button below and we will contact you shortly.